Streamline your Digital Marketing Strategy through Omnichannel Marketing Planning
Knowing where to start and how to structure a plan is often the most difficult part of planning, especially if you aren't experienced in creating plans. You may already have one plan or several in place and will be thinking you don't need an omnichannel marketing plan on top of that.
Depending on the type and scale of business, you may have all kinds of different plans in place – both business-wide and for individual channels where different people are responsible for each. For example:
The business plan
Marketing plan
Digital Marketing plan (may or may not be integrated into the marketing plan)
Advertising plan
Customer acquisition plan
Email marketing plan
A retention plan
A social media marketing plan
Conversion optimisation plan
That's a lot of plans and a lot of complexity. All these plans can overlap and even pull in different directions. Omnichannel planning allows you to collate the most important parts of all your individual channel plans into one omnichannel marketing plan. We recommend using the RACE Framework to structure your plan, as it tracks the omnichannel customer journey through Reach, Act, Convert and Engage.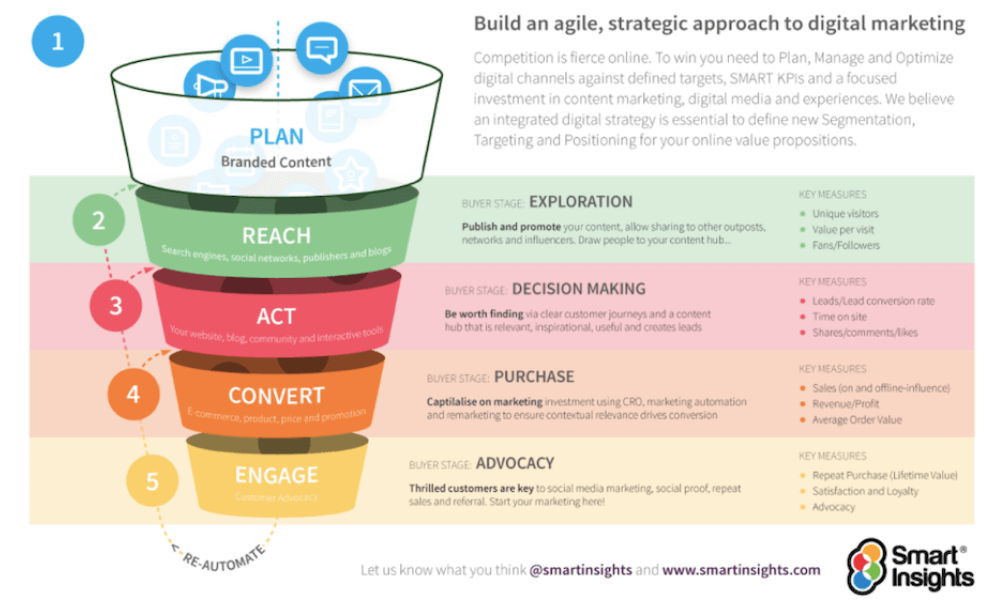 What is an omnichannel marketing plan?
An omnichannel marketing plan is a marketing communications plan which integrates optimsed marketing channel activity across the customer journey. It focuses on selecting the inbound marketing techniques, content types, and channels that will drive customer acquisition for defined product categories.
When integrating multi-channel offline and online activities, you need to consider all the touchpoints across the whole customer journey. These are shown in our customer lifecycle chart below, which in itself shows the need for a multichannel plan – all these activities need to be planned in where relevant.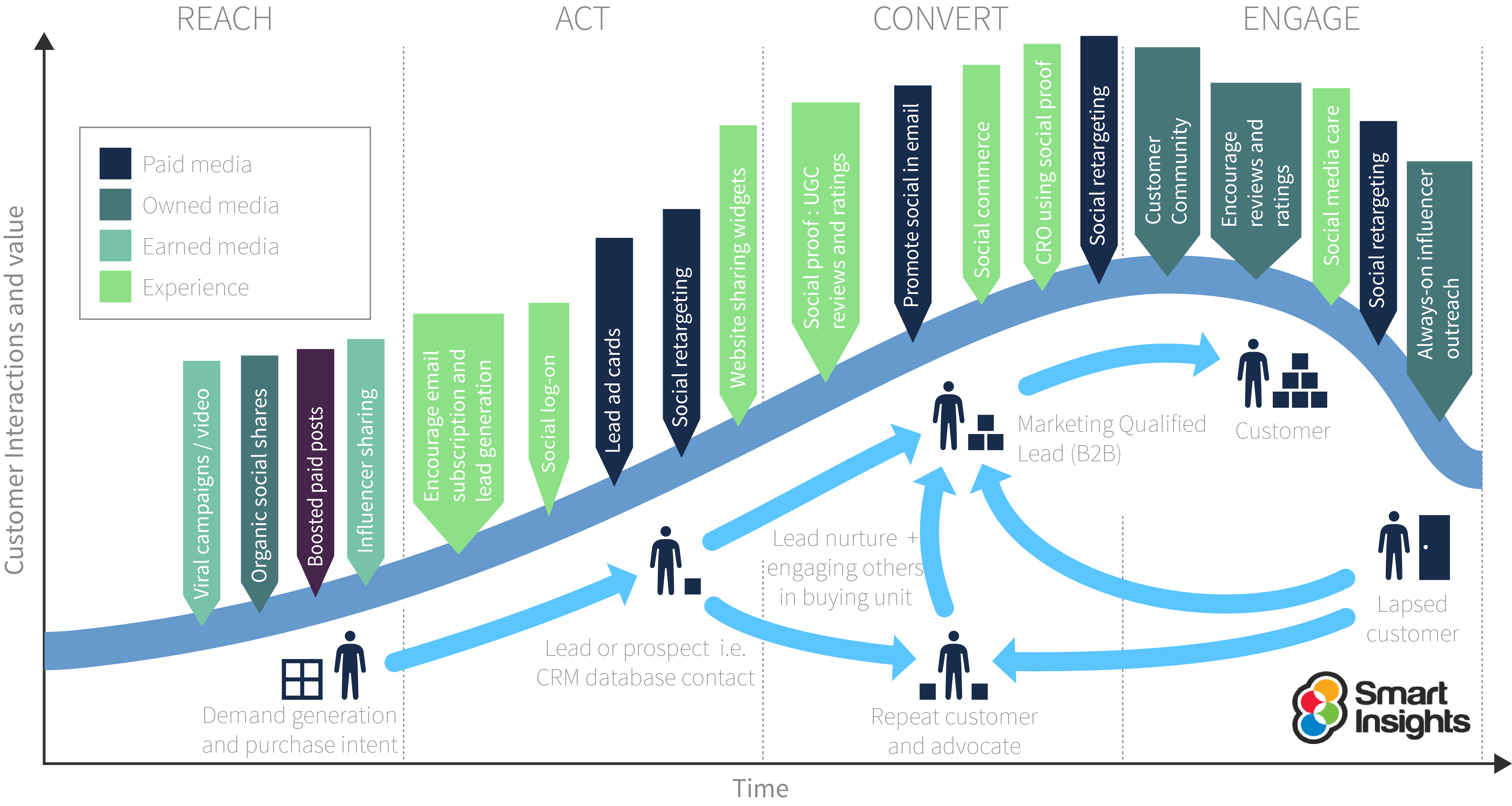 Integration is what makes an omnichannel marketing communications plan essential. It can help in different situations. For example,
As an annual communications plan for a small to medium-sized business (SME/SMB)
As an annual communications plan for one market or audience for a larger business
As a longer-term customer engagement plan for the longer-term focusing on one market or audience
Omnichannel Strategy Essentials for 2021
The global pandemic has forced marketers to adapt and change their marketing planning to remain relevant in today's digital disruption and effectively acquire and retain customers in a challenging environment.
How does an omnichannel plan differ from a digital marketing plan?
You may be wondering how this differs from a digital marketing specific plan that we often feature on Smart Insights. Well, these have an important role when a business is transforming and you're creating a long-term roadmap of digital marketing investments and changes to resources and process.
However, digital plans have the disadvantage that they may limit the integration of marketing activities. We know from our research, that integration is a major challenge marketers face. Once a business has created and implemented a digital marketing plan and digital transformation is underway, digital marketing shouldn't be seen as something separate. Instead, it should be integrated.
Our Digital Transformation Learning Path supports managers and their teams to upskill and optimise their digital marketing strategies whilst streamlining and transforming 'digital' approaches across the business.
What is omnichannel market mapping?
You can use the market map model, coined in Dr. Dave Chaffey's book Digital Marketing Strategy: Strategy, Implementation and Practice. You can get to grips with this model and what market mapping can mean for your omnichannel marketing strategy in the Assess audience customer journeys module of our RACE Practical Digital Strategy Learning Path.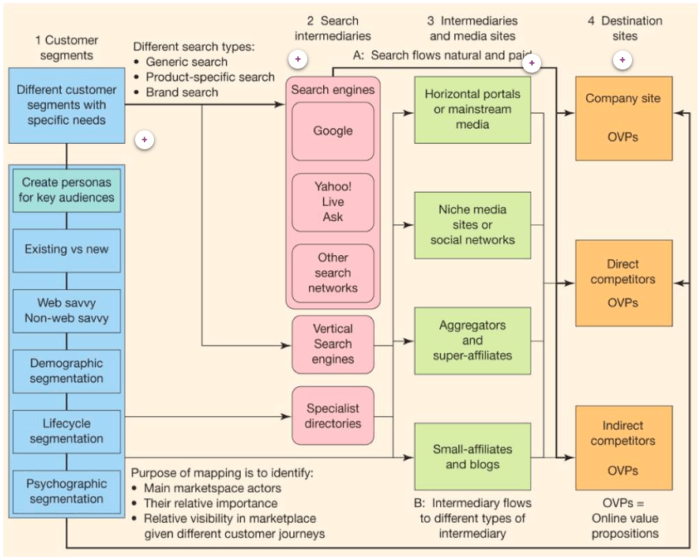 Omnichannel Marketing Variations by Industry
Omnichannel planning tends to be well-established in developed digital marketing teams in industries such as E-commerce, or other businesses with a strong online presence. Other industries, such as manufacturing, are embracing the opportunities omnichannel brings for digital marketing optimisation for growth.
Creating a Successful Marketing Plan
Finally, when creating your omnichannel marketing plan, always have in your mind that a successful plan needs the following:
Clear, realistic goals which you can be confident of hitting
The best strategy to achieve these goals against your competition
Sufficient details of the tactics and actions needed to translate the strategy into action
A method to check you are on track with your plans
Good luck!
Citation: If you would like to find out more about the source of this article explaining omnichannel marketing, see here.
Get your Value Builder Score today and start to transform your business.